What is Wafflerama?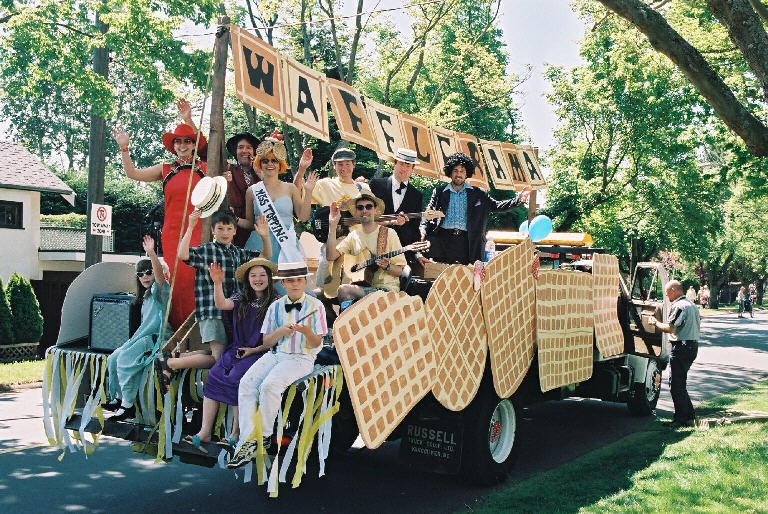 Below are a gathering of mock newstories, wafflerama comments and witticisms from past years.
What is Wafflerama?
Wafflerama, the early years
Wafflerama takes it to the streets,2002
Wafflerama goes organic, 2003
Reservations rumour persists, 2005
Wafflerama reveals new recipe, 2006
When is the Oak Bay Tea Party Breakfast?
Can I hold my own Wafflerama?

What is Wafflerama?
Sent to a friend from Seattle back in the late '90s. I graciously did not correct her that there is no "the" before wafflerama.
"What is the Wafflerama?" you ask. Well, Sally, let me tell you about this amazing offer.
If you arrive in Victoria on the weekend of June 2nd, you receive a warm welcome to a house potentially under renovation or to a suite in the actual location of Wafflerama itself, on the beautiful Willows Beach waterfront.
As part of this package, you will be able to witness the Oak Bay Tea Party parade, which passes the doors of Wafflerama, while feasting on delicious waffles smothered in whip cream, Canadian Maple Syrup, fresh berry toppings and a cast of thousands (well, around a hundred, anyway).
But wait! There's more...
You also receive endless champagne and OJ, delightful chitchat with a multinational table of jokesters and quick wits, and a gaggle of kiddies ready to sweep away your little one to leave you alone to enjoy your breakfast in bliss.
Still not convinced? There's MORE!!
After your appetite has been satiated, walk the white sand beaches of Oak Bay and meander down to the Oak Bay Tea Party, home to experienced rides from West Coast Amusements and a tried and tested and never adjusted selection of Oak Bay Tea Party events: the sky divers, the bathtub races, the Ladies nail driving contest. It's all there!
Interested? Respond now to mbgower@yahoo.com. Operators are standing by.
Wafflerama, the early years
Back in 1982, Peter Couch, Cathy Puddy and I weren't trying to establish a tradition. We just needed something to alleviate a sleepless weekend of grad merrymaking.
Ten o'clock Sunday morning, a few revolutions on the Zipper at the Oak Bay Tea Party had drained what little reserves we had left. My parents' (conveniently at church) place was within stumbling distance. After some quick prep work, we were tucking into fresh-from-the-iron waffles -- the perfect ultra-fat hangover cure.
Five years later, the 2nd Pent-Annual (or 1st Annual; take your pick) Wafflerama, with about 10 times the people in attendance, took place. It's been an annual event for the 25 years since.
In 1998, following various successful acts of procreation on the part of waffle attendees, the event became overrun with the Children of Wafflerama. With most of our hedonistic days behind us, we made a leap from the Sunday time (where it was safe from the eyes of Church-going parents) to Saturday morning with its kid-friendly parade.
Join the Parade
To mark the 20th anniversary of Wafflerama, a float was organized in the Oak Bay Tea Party parade, from which we cooked and served waffles to parade watchers. We won second place in the Community Float category. Apparently local radio commentators were talking about it for days. My favourite story for the event came from one of our dressed up servers, Graham Barron, who when repeatedly confronted by the question "What is Wafflerama?" opened his arms expansively to the craziness about him and announced "THIS is Wafflerama." Another server sent this along after the event.
Hi Mike,
Well I've had 48 hours to reflect on the Wafflerama 2002 experience and I've reached the following conclusion. This will be one of those seemingly pointless life experiences that I'll be talking about many years from now. Possibly "one for the ages".
I must admit a little nervousness as we began to roll on to the parade route, but once I got into my role I thoroughly enjoyed it.
Thanks for letting me be a part of the fun.
Jack "waffle ambassador" Showers
P.S. If I'd been interested this would have been a great way to meet chicks.
The following is one of the organizational emails I sent out. It gives some idea of the numbers involved in making the float a reality. I somehow talked a trucking company into donating a flatbed, and we had an onboard rental generator to power the waffleirons and the band's amps. The whole idea was crazy, but it worked. We ran out of batter halfway along the parade route. I called Julie from a cell phone requesting another quadruple batch. "Let the dream die!" was all I heard in the chaos that was happening in the kitchen before she hung up. In the end I commandeered some nextdoor neighbours, Robbie and Ingrid, who I happened to see in the crowd. They dutifully hustled off and bought all the ingredients for waffles at a store, then ran the length of the parade route to give it to me -- only to catch up as we reached the finish line!
Subject: To you, the proud, the few, the lucky
Welcome paraders and decorators. Wafflerama is days away, and this email gives some details on what your anticipated role is.

For those going in the parade, a meeting with more details will be held on Friday at 7pm at 2515 Beach Drive. PLEASE call/email me and let me know whether you can make this meeting.

Float decorators
Float prep will begin on Thursday evening at 6pm at 2515 Beach Dr. It will continue on Friday from 2pm (the flatbed should arrive by 3pm) until it's completed. The following people have expressed interest (others are welcome):
Gillian Davidson, Louise DeGagne, Sondra Barron, Tusa Shea, Katie Macdonald, Craig Fulton, Paul Barron.

Thursday will entail painting large waffle cutouts, building the float infrastructure, making a banner and signage, and dreaming up crazy ideas to do on Friday. Friday will entail putting the thing together and adding that certain "rama" to the waffle float.

Paraders
The float will be moved to Windsor park by 8:30 am Saturday. All parade participants should be at 2515 Beach Drive by 9:00 am. You are required to come dressed in either formal or outlandish wear. Your call. We will be transported to the parade start at 9:30. The following people are anticipated for riding the float: The band (Rich, Chris, Jen), Emma, Gillian, Craig, Heike, Lisa P., Henry, Rob M., Ellen, William, Me. The following people are earmarked as waffle distributors: Dan, Graham, Jack, Paul. We will clarify roles, etc., at Friday's meeting.

Looking forward to a fine event!!!

Wafflerama goes organic
"Press release" from 2003
Wafflerama is pleased to continue its move to organic and farm fresh ingredients. Dairy ingredients are being driven in fresh from the Saanich Peninsula, while all flours are 100% organic. "We're thrilled with our ISO 9000 compliance," enthused waffle king Mike Gower. "This year's selection of waffles promises to be that much tastier."
Asked about reports of a possible low-fat choice, Gower denied all rumours. "This event is a cardiologist's dream, and we intend to keep it that way. Health enthusiasts can go for a jog."
Reservations Rumour Persists
"Press release," June 2nd, 2005
VICTORIA (CP) On the eve of one of Victoria's most exclusive events, rumours persist that Wafflerama will be giving preferred serving to guests who pony up a $17.50 reservation fee.
Event organizer Mike Gower, who works as a contractor for BC Ferries through multinational giant IBM, denies he has made a deal with the now-privatized Crown corporation to use their controversial reservation system.
"It's an idea that won't float," says Gower. "Wafflerama is not a vehicle for profit-making."
Rumours began after news broke that Wafflerama had instituted a "Serve Me First" coupon for its loyal consumers. Gower explains, "That is our way of rewarding courtesy; it's not a money-grab. Anyone who RSVP-ed by deadline, as requested, will receive one 'Serve Me First' coupon. It's a way of saying 'thank you' to the folks that follow the rules of etiquette."
The coupons, which go into circulation on the eve of the event, are not for sale, and any rumours of scalping will be dealt with severely by the underground Waffle brother- and sisterhood, Gower added ominously.
Wafflerama takes place this Saturday, June 4, at the usual venue. Information is available at mmm.wafflerama.com
-30-
Wafflerama reveals new recipe; source of maple syrup supply
"Press release," June 1st, 2006
VICTORIA (CP) Waffle purists today further decried Wafflerama's move away from traditional fare to what critics have snidely dubbed nouveau Belgiume.
The controversy arose over founder Michael Gower's announcement that a new cornmeal waffle had been added to Saturday's event (recipe at http://mmm.wafflerama.com).
"Next year, they'll probably just serve a segment of a waffle on a platter with a sprig of mint," sniffed one Victoria resident.
In a move some have suggested is a clear attempt to mollify its growing list of detractors, Gower today bowed partially to Freedom of Information requests by indicating that the main supplier of syrup is none other than Quebec expat Sondra Barrand, whose father's cousin's husband Gaston operates a sugar shack in the backwoods of La Belle Provence.
While Gower refused to reveal the precise location of the maple refinery, Barrand said the location was something like this.
In other news, Serve Me First coupons will again be distributed to those etiquette-minded wafflers who rsvp'ed by deadline.
-30-
"When is the Oak Bay Tea Party breakfast?"
The above question was sent in 2007 by a brother-in-law who should know better. The response from the Wafflerama legal department, below, was swift and decisive.
Please note that Wafflerama is not officially sanctioned or affiliated in any way with the Oak Bay Tea Party or the Municipality of Oak Bay. Nor does Wafflerama suggest or imply that typical portions consumed at the event constitute a complete and balanced breakfast.
"I may just hold my own Wafflerama"
The above statement was received from a sister audacious enough to suggest she might hold her own event on a Gulf Island. Again, the Wafflerama legal team cut to the chase.
Michael Gower of Victoria, BC, holds the copyright for Wafflerama. For a small royalty, you may host a Wafflerama-Like Event, provided you post the following sign in a conspicuous location:
"While Wafflerama&copy has authorized the use of its name in order to add a note of hip-ness and authenticity to this otherwise unknown brunch, we do not certify nor recommend any of the products served as being true or even poor approximations of the orgiastic taste sensations available annually from the Gower Centre for the Culinary Arts."